THE "LOVE LIST"
Some of the links on this page are affiliate links, which means that if you click on one of the product links I'll receive a small commission at no additional cost to you. This helps to support the blog. Thank you for your support! You can read my full disclosure here.
Books
Reading this book made me realize that I was holding on to items that were not contributing to my joy. Marie Kondo provides a thorough explanation of why you need to let go. You can experiment with her method or take it in stride.
If you're looking for a Christian perspective on minimalism, this is the book I recommend. My eyes were opened to the possibilities in living a minimalist lifestyle.
Labeling
Kitchen
Corral your pantry staples with this pretty basket. I use it to store corral cooking oils, broths, baking supplies, and snacks.
If there's anything I want, it's less clutter on my kitchen counter. This knife block keeps the counter clutter to a minimum.
Closet
Non-slip hangers are especially important for women's clothing since it tends to come in fabrics and styles that like to fall off plastic hangers. Plus, these hangers take up less space and make your closet look pretty.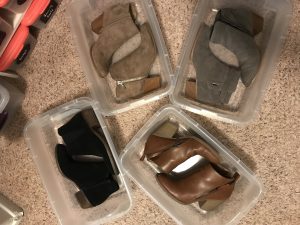 These boxes are perfect for storing booties and keeping the dust away.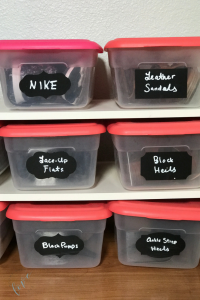 I use these boxes for all my other shoes. By limiting the number of boxes I have, I also limit the number of shoes I own.
Playroom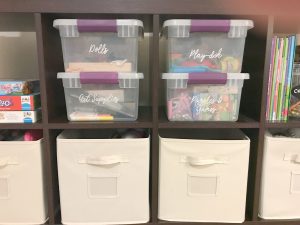 These tubs and totes are on sale right now at Target. They have been the perfect addition to organizing our playroom. Use the link above to order your tubs and totes online for in-store pick-up for an extra 10% off.

Storage ottomans are the perfect way to hide away toys and still have an attractive space.