A couple weeks ago, I wrote about ideas for toddler activities for work at home moms. I realize I would be doing you a major disservice if I didn't offer you some advice on how to organize kid art now that it's a regular occurrence in your home.
Some of the links in this post are affiliate links. Please read my full disclosure here.
Right now I am working with a client on paring down numerous memory boxes of her children's art and school work. She has kept every piece of paper they've touched, among other things. At our very first session, she asked me what I will do when my daughter starts bringing art work and school work home. A couple weeks ago, I wasn't sure what I'd do.
Three weeks and 10 billion princess watercolor paintings later, my home is being overtaken by kid art. It is everywhere. My husband sat in a chair last night only to crush a couple paintings. Our two-year-old carries her art everywhere and insists that it be stuck on the fridge, pinned on the bulletin board in my office, hung in the playroom, and taped to her bedroom wall.
Between the Disney princess watercolor books
, preschool co-op, and her new art class, I'm overrun by my little artist's creations. I'm beginning to figure out what I'm going to do. All this art came in like a wrecking ball (am I not supposed to use that reference anymore?), so something must be done.
Organizing solutions for kid art
Our first ever art class was last week, and my little artist really enjoyed herself.
Can you tell by the look on her face?
I know that seeing her creations on display and showing them to her family makes her proud and happy. Her joy is my joy. Honestly, her creations are cute, but they are nothing compared to watching her create them and seeing how proud she is to show it off.
So will I keep the art work?
No.
What will I keep?
This: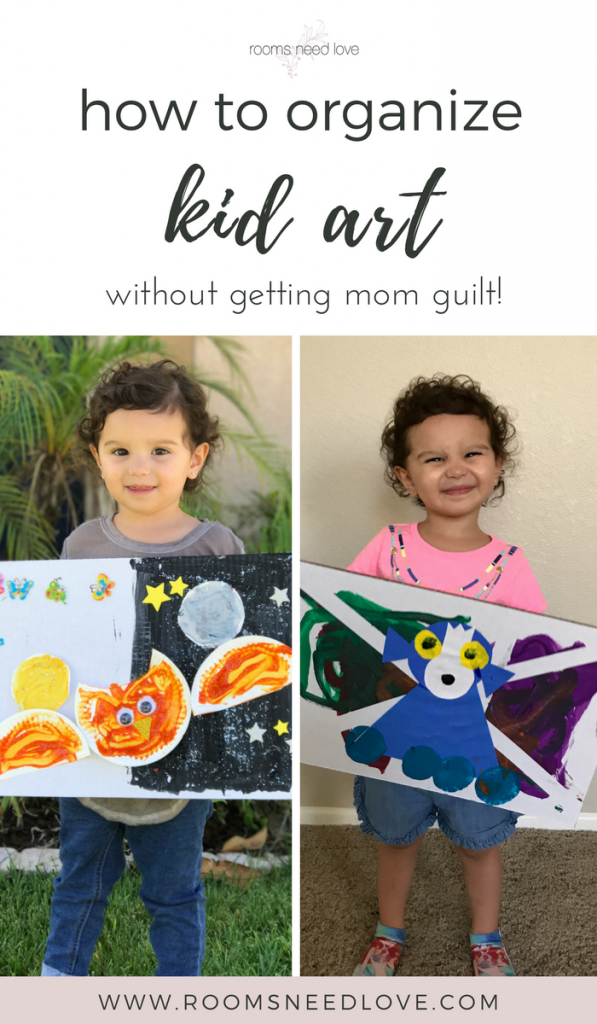 These photos says it all for me – her pride in her work, the happiness she had in making it, and the time we spent together.
The solution I've chosen for my family is to take pictures of my child with her creations. Sure, I'll probably end up holding on to a couple samples of her work, but most of it will end up in my current personal project of creating a family yearbook through Shutterfly.
I know there are a lot of moms who keep every thing their child creates.
That's okay.
I am not one of those moms.
And that's okay too.
What you should consider is your intent in keeping these creations:
Do you want to keep these creations as a reminder of that time in your child's life?
Are you planning on eventually giving these creations to your child as an adult?
Or do you feel guilty if you don't keep it?
Here are some ideas for keeping organized and not becoming overrun but kid art:
Scan your child's art into a book. If you're totally okay with not having the original art piece, you can create a book. This is ideal if your child makes creations that take up a lot of space, like the piece featured above. You can create a book entirely dedicated to art (which might make a cute coffee table book) or add it to a family yearbook.
Keep a box of limited size for your favorite creations. Sort through the box every couple months or at the end of each school year. This can be a job that you do alone, with your child, or if you have too much to sort through from years' past, with a support person like a Professional Organizer.
Now, let's deal with the guilt of not keeping it all.
Give it away. Remember the 10 billion princess watercolor paintings I talked about earlier? There's no way I'm keeping them all. Instead, we handed out pictures to our family nearby and mailed the pictures along with little notes to relatives far away.
Making that little effort brought so much joy to our family all over the country. I received text messages and phone calls from relatives telling me how receiving those little creations completely made their day.
The result: no mom guilt.
And that is a beautiful thing, my friends.