Toy clutter. Ugh. Last Christmas our playroom was filled to the brim with toys. A play kitchen, a dollhouse, a roller coaster…so many toys! To make matters worse, our daughter's birthday is less than a month after Christmas. Overwhelming is one word for it. Another would be chaotic. Since then I've figured out how to get rid of toy clutter in my house, and it's easier than you think.
Maybe you've experienced the same toy overwhelm. Or maybe you don't have a dedicated playroom.
Some of the links in this post are affiliate links. Please read my full disclosure here.
The problem is we think we our kids need all these toys. Toys start taking over our grown up spaces so we never get a break from the clutter. It makes us anxious and unhappy.
Here's the truth: your kids do not need all those toys. In fact, you will ALL be much happier if you get rid of some of that stuff.
You are probably thinking, "But there's so much!" Don't be discouraged. There are ways to fix the problem, my friend. I'm going to tell you how to limit the number of toys, how to organize them, and what to do when birthdays and Christmas roll around.
How to Get Rid of Toy Clutter
"They play with all these toys."
It's not true. Your kids don't even know about half the stuff hiding in the playroom or at the bottom of the toy box. Out of sight, out of mind.
How do you know which ones they aren't playing with?
Rearrange the toys.
I rearrange my daughter's playroom once a month. At first I couldn't figure out if my instinct to rearrange was the organizer in me, but after a couple months I realized it was no fluke. Designate toys in the toy box to different bins. Move doll furniture on the other side of the room. Centralize toys stuck in the corner. Watch what toys are suddenly interesting and fun.
It works. I've donated quite a few toys and books these past few months. Our playroom is neater, cleaner, and under control. This is my number one strategy when I'm asked how to get rid of toy clutter.
How to Organize Toys
After you've figured out which toys don't make the hall of fame, there are lots of solutions for organizing what remains. Any storage that allows a child to the toys is good. I use several toy bins and baskets for dolls and stuffed animals.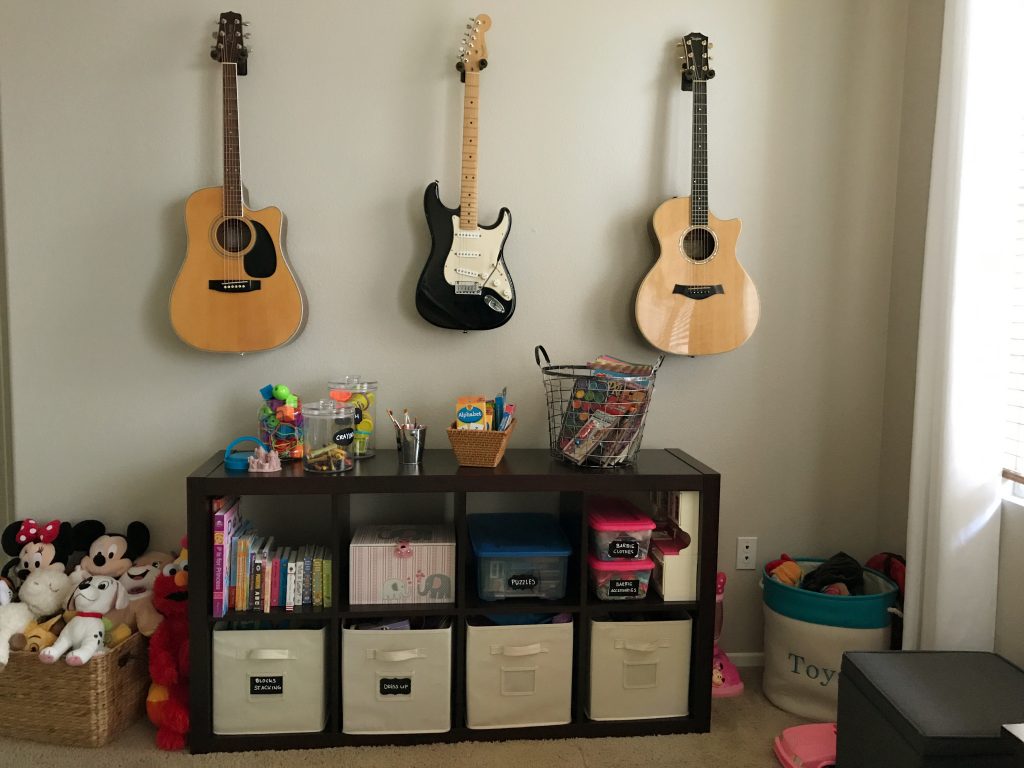 One of my favorite organizers is a cube shelf.  I love that they can be used as vertical storage to keep things like art supplies and workbooks out of reach. (If you go vertical, please make sure you use a wall anchor
! It makes me so paranoid!)
I know using storage with visible toys is good, but sometimes it's nice to hide away the toys that make a larger mess. Use storage ottomans since they add some seating and flair to a playroom. I use a large ottoman, currently a toy box, and a small ottoman, which serves as train set storage at the moment.
As I said before, rearrange the toys every month or two. It will spark interest in your little one and it will help you see what needs to go in the donate pile.
How to Deal with Christmas and Birthdays
There are a couple toys on my daughter's Christmas list: a tricycle and a "purple" Barbie doll. (To be fair, she's playing with all my 90's Barbie dolls, so she probably should get a newer doll that isn't in danger of losing her head.) Her "Wish List" has other items like flash cards, books, workbooks, games, and puzzles. She has plenty of toys already.
For her birthday, we're skipping the party completely and taking her to Disneyland. We all had a blast during our 3 Disney trips last year and there is no better age to go. We've realized that experiences are remembered far longer than any other gift.
As for our relatives and friends, we'll send them the little "Wish List." I might even ask if they would be willing to put money toward her college fund or if they would like to contribute toward swim lessons or gymnastics. Those are the gifts that provide for the future.
I became more convinced about limiting the number of toys and the types of toys that enter our home after reading Clutterfree with Kids
. Joshua Becker says:
Toys are not merely playthings. Toys form the building blocks for our children's future. They teach our children about the world and about themselves. They send messages and communicate values. And thus, wise parent think about what foundation is being laid by the toys that are given to their kids.
I hope I am a wise, intentional parent. It is my hope that is what you want to be too.