November is nearly upon us! It's time to start making plans for holiday travel, whether you're heading out for a week or just a day. Today I want to help you get organized for your holiday travel by sharing my toddler diaper bag essentials.
Some of the links in this post are affiliate links. Please read my full disclosure here.
Last weekend we took a day trip to Julian, CA to escape some of the crazy SoCal heat. We indulged in apple pie (we brought two home), explored the town, went to the pumpkin patch, and toured the local gold mine.
We decided to walk through town without a stroller, so we needed to pack light. When you're a mom, there's a point where you realize you don't need half the stuff you're carrying around. I ditched the diaper bag as soon as I stopped nursing and have been happily carrying a purse again. If I don't need to lug around what is essentially a piece of luggage, I won't.
Diaper bag essentials vary mama-to-mama, but what's in my diaper bag is the bare necessities.
My Toddler Diaper Bag Essentials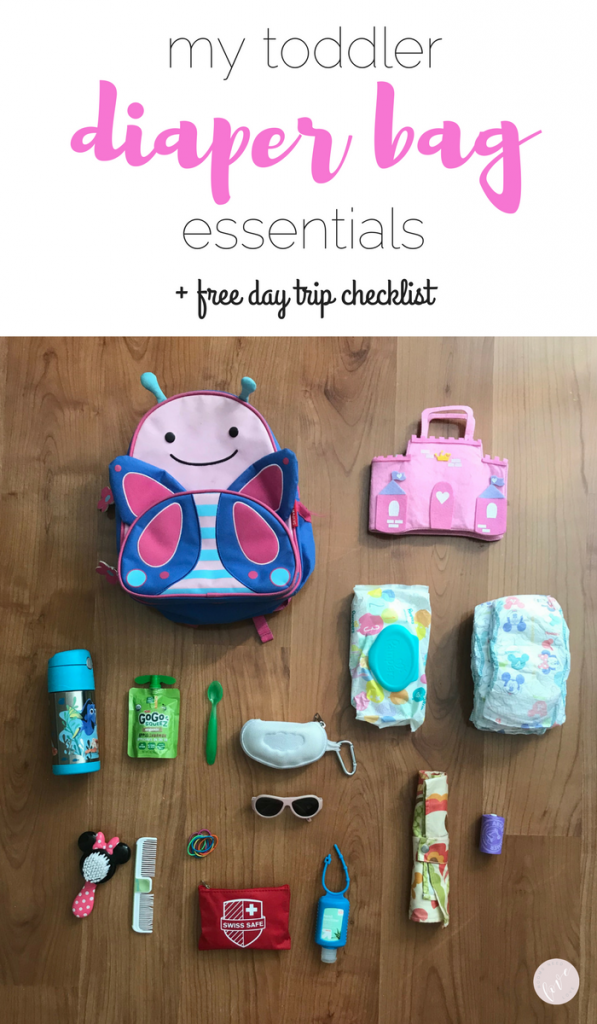 Skip Hop Zoo Toddler Kids Backpack
 |  Pampers Sensitive Travel Wipes
 |  Huggies Snug & Dry Diapers
 | Diaper Changing Pad
 |Munchkin Arm and Hammer Diaper Bags
 | Babiators
 |  Carter's Hoodie
 | Germ-x Original Vitamin E Hand Sanitizer
 | GoGo squeeZ Applesauce on the Go
 | Thermos
 |  Small Basic First Aid Kit
 | Disney Minnie Brush and Comb Set
 | Girls No-damage Elastic HairBand
Toddler Backpack
I decided to get a toddler backpack because it is small enough for my toddler to wear if she ever needs to. It also keeps us from over-packing. We love our butterfly Skip Hop Zoo Toddler Kids Backpack
.
Diaper Changing Essentials
We never run out of diapers or wipes thanks to our subscription to Amazon Family. I love that diapers are shipped directly to our door. We get 20% off every diaper order with Subscribe & Save and 15% off everything else when we subscribe to 5 or more items. Some of our favorite items to subscribe to (aside from diapers) are 
Pampers Sensitive Travel Wipes
,
Annie's Organic Cheddar Bunnies
, and
HONEST Kids Organic Juice
.
Diaper Change Clean Up
At this age we keep hand sanitizer in the bag not only for diaper changes but for when J touches everything in sight and there's nowhere to wash her hands. We also keep Munchkin Arm and Hammer Diaper Bags
 handy in case of messy diaper situation.
Space-Saving Changing Pad
One essential purchase I made after a few months of carrying a heavy diaper bag was a space-saving, light-weight Diaper Changing Pad. This thing was a life saver and definitely one of my favorite things for on-the-go with baby. It's waterproof and easy to clean (I happen to know from experience).
First Aid Kit
I have a full first aid kit in my car, but I also carry a Small Basic First Aid Kit
 in the diaper bag. You never know when you might need a band-aid or need supplies for something more serious.
Sunglasses
We never ever leave home without our Babiators
. Since Dr Love is an optometrist we understand the importance of infant and toddler eye protection. The risk of first developing damage from the sun is highest at a younger age. We love Babiators because you can get polarized lenses, and they are flexible enough for your child to sit on them during a car ride down a mountain and still be wearable. Or you could put them safely in the pouch. That would be better. We clip the pouch to the backpack for easy access.
Light-weight Jacket/Sweatshirt
Thank goodness we had a sweatshirt with us in the gold mine! We were prepared when our toddler complained about the cold air inside the mountain.
Other Essentials
Brushes, combs, and hair ties may not seem essentials, but we go to swim lessons every week. It's one way we're always prepared when we're in a rush to get there on time.
I also carry On-the-Go Tissues
, but they're typically in my purse rather than my diaper bag. Honestly, I leave the diaper bag in the car when we're out shopping so the only thing J might need is a tissue.
Snacks
Right now we're loving the GoGo squeeZ Applesauce on the Go
but we keep bags of crackers and cereal with us as well. A Thermos
 of water is absolutely essential for the California heat.
Toddler Day Trip Essentials
For our day in Julian, I definitely had to pack some extras, many of which were left in the car (some items live in the car full time for emergencies). You can get a printable checklist of diaper bag essentials and day trip essentials in the resource library.
What have I left out? Leave a comment and let me know what other essentials you have in your diaper bag or for a day trip.