My two-year-old daughter loves clothes. And jewelry. And shoes. And headbands. Her current favorite outfits are two cold-shoulder maxi dresses from Carter's that I let her pick for our family photo shoot. If she sees one in the closet, that is what she wants to wear, along with her purple necklace, colorful headband, and purple fairy wings (which is exactly what she wore for the shoot, minus the fairy wings).
Some of the links in this post are affiliate links. Please read my full disclosure here.
There is no shortage of events that call for our kids to get new clothes. Baby showers, birthdays, holidays, family photo shoots…you name it, there's probably a new outfit attached somewhere. Our kids accumulate so many clothes, and it's difficult to reduce the amount, especially when we know there are future babies down the line.
So what's a mama to do when the closet is overflowing with the generosity of family and friends and sentimentality (or guilt) attached those little outfits?
The key is give yourself boundaries, understand your parenting style, and understand the unique personalities of each of your children.
For example, the infant clothing in my "keep" boxes are mainly onesies and soft leggings, a few dresses, and a couple fancy dresses and shoes. Most give away items were denim (because they just feel so uncomfortable for little baby legs!) and a few of those well-intentioned gifts that just don't fit my personal style or my lifestyle.
Nowadays my daughter is all about wearing dresses ALL THE TIME. We still need a lot of soft pants and t-shirts for playdates, park dates, and gymnastics. At this point, I will be keeping only the very best of these items, possibly by creating a capsule wardrobe for the next little girl to inherit these clothes. The point is, every child is unique, and just because my first child loves dresses does not guarantee the next little girl will too. If you have more than one child of the same gender, I'm sure you understand their unique styles so you can be more purposed in making your choices on what to keep and what to give away. Keep in mind that you are surrounded by very generous people and all your children will nearly always receive new clothes.
Are you ready to start organizing? It sounds overwhelming, but you got this. Let's take it in steps.
How to Store & Organize Kids Clothes in 5 Easy Steps
Step 1: Get the storage materials.
Use plastic storage bins that are stackable. I like clear bins like the ones below because I can add cute storage labels to the inside of the box. You will need several bins depending on how many sizes you have and even more if you are storing both boy and girl clothes. Oh, and remember how I said boundaries? If you want to put a limit on how much you keep (ahem, you do) then buy a smaller storage bin. I've been able to combine infant sizes (3 mos and 6 mos) in one bin since they're so itty bitty anyway.
Step 2: Set up your organizing system.
This is the easy part. Set out your bins and add the labels. Add a box (or bags) each for donations, items to sell (if you choose to do so), and trash.
There are FREE printable storage labels in pink and blue in the resource library.
Step 3: Take everything out. And I mean everything.
KonMari much? We're implementing some of Marie Kondo's method here because it helps, especially if you're trying to reorganize the space where your kids' clothes are stored. This will help you re-imagine the space and show you the true magnitude of the clothing problem.
Step 4: Decide what to discard and what to keep.
It's decision time. But don't worry. Here is a guide to help you narrow it down.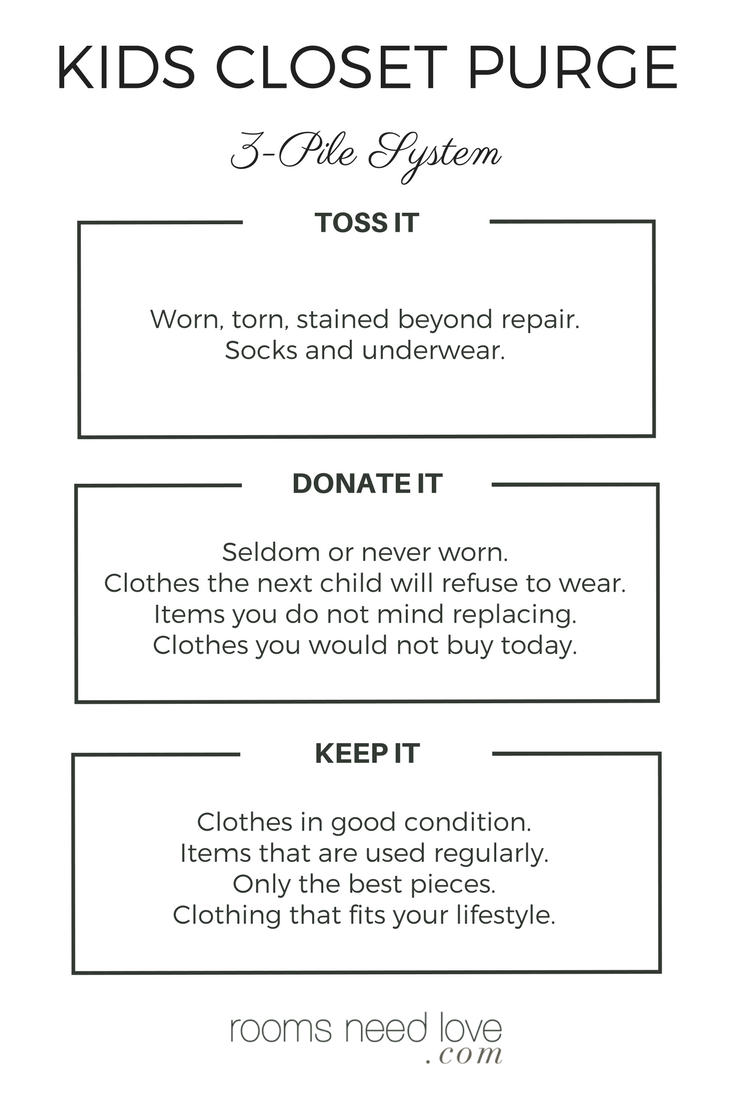 Step 5: Implement a storage system.
Figure out the best way to manage going through outgrown clothes. You may already have systems in place in other areas of your home that you could transfer to managing your kids' clothing. Everybody is different so there is no one-size-fits-all system.
For one client, we decided to leave the bins for the current size on the floor of the closet and a hamper for discards. Whenever a piece of clothing didn't fit, it could go in either the "save" bin or the "discard" hamper. This system makes it easy to rotate to the newest size.
If you're really having a hard time with decision making, I recommend hiring a professional organizer to help you get on the right track. Even just having a couple hours with a PO can put you on the right track to minimize clothing and figure a system that works best for you.
Want to see the closet that inspired this post? Check it out here!