As a work-at-home mom, I am always in search of easy toddler activities to keep my 2-1/2-year-old daughter busy while I'm working. I don't want her to sit in front of them TV all day, even if it doesn't give me time to work.
Some of the links in this post are affiliate links. Please read my full disclosure here.
The thing is, my girl is a smart cookie. She has always been ahead developmentally, and I feel the mom guilt that I don't do enough to prepare her for school.
I know I need a plan this year for learning at home. I need easy activities that don't take a lot of time away from work but help my toddler to gain the skills that are important to development.
After a little trip to Target for inspiration, my husband and I came up with easy toddler activities we can do even while I'm working. (By the way, we went to Target because our child said she wanted to go to Target. Is that bad?)
Easy Toddler Activities to do at Home:

Art
I'm talking art that requires little effort and minimal clean up for mom. Try coloring books
, watercolor books
, and Play-Doh
. We bought a Disney Princess watercolor book that she was begging to start using the day we brought it home. With watercolor, she will sit there and paint as long as she has a picture and purple paint. (My house is overflowing with toddler paintings.) My daughter and I can sit at the kitchen table together while I work and she practices hand-eye coordination.
Fine visual motor skills
One goal we have is proper pencil holding. We picked up a Kumon Tracing workbook
and chubby pencils
for learning to hold a pencil correctly, and I hope we can move up to the alphabet tracing workbook
later in the year.
Flash cards
Do a stack of flash cards during lunch instead of turning on the TV. Not only do we have letters
, numbers
, and first words
, but we've now invested in shapes and colors
.
Pretend play
Let's not forget the importance of playtime. We have all sorts of pretend play toys, such as a train set, dolls, a play kitchen, etc. I recently brought home my old Barbies from my parents' house, and my daughter is having a blast learning how to play with them. (I will share in another post my strategy for getting my child to play with all her toys.)
Board games
You're never too young to learn about rules and taking turns. Start with simple games like Candy Land
 and Chutes and Ladders
. I was shocked how quickly my girl picked up on the rules for Candy Land
. She's not even disappointed there isn't any candy in the box.
Puzzles and problem solving
We've been doing chunky puzzles for a while. Now we need to move to large jigsaw puzzles. At the suggestion of our pediatrician, we also got a jar of oversized bead shapes and strings
for her to learn hand-eye coordination.
Reading
The experts say 10 minutes every day. Get reading in when you can, but we make reading part of our bedtime routine.
Listening skills
One of my favorite style + lifestyle bloggers discussed using audio books with her kids to improve listening skills. It's better than sitting in front of the TV, and you are less likely to get tired of it since it's not the same thing all the time.
Free Easy Toddler Activities for Getting Out of the House:
Library
The library is one of our favorite trips each week. Our toddler loves to choose books to read and gets a kick out of giving the librarian her library card. It's great for me because I get out of the house and we can read some different books rather than the same thing all the time.
Parks
We are fortunate to live a block away from a really great park. When it's not too hot or raining, we try to take a little break to go play. I've even packed up lunch to get us out a little longer.
The Backyard
If you don't have time to actually get out, just take your laptop to the backyard. Sit and work while your kid plays outside. (I'm trying to find good backyard activities that have little grown up involvement, so if you have any ideas please let me know.)
Walks
If we get up early enough before work and before the heat kicks in, we go for a walk. Both mommy and kid get a mental break from being in the house, and mommy gets some good exercise.
Toddler Activities with Social Interaction:
Parent & Me Classes
Our city offers low cost activities for all ages. Classes for toddlers are typically no longer than 45 minutes, so it's not difficult to make up that time by working an extra hour. The beauty of these classes are that we can take different ones at a very low cost, sometimes at about $8 a class! The city of Temecula offers art, dance, music, and different sports for young children. Many classes are extremely popular so you have to sign up early to guarantee your spot.
Play groups
There are many play groups that meet on a regular basis for short periods of time, and there isn't a lot of pressure to show up to every single one. You can find these groups on Facebook or through your church. Not only does your child get some social interaction, but you can connect with other moms in your area.
Play dates
Find out if friends are willing to come to your house for play dates. My friends understand that I work during the day and they don't mind coming to us so I can work. I am so grateful to them.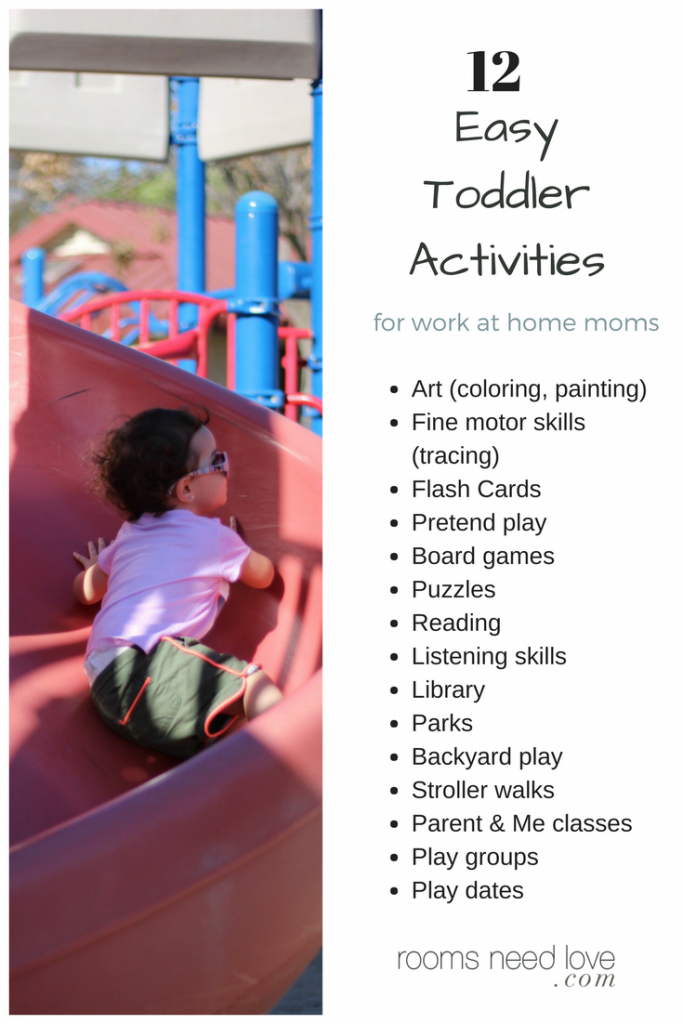 Other Tips:
Remember I said my house is filled to the brim with toddler art? We sent her art along with a short letter to our loved ones across the country. We practiced writing her name on each letter, plus we had the excitement of going to the mailbox. So, go ahead. Share the love and cuteness.
Print photocopies from tracing books so you can practice multiple times or use them for multiple children.
Look up audio books on YouTube for free to start. Your local library also has audio books available for free.
Check out at least one book from the library that your child enjoyed previously. Repetition and recognition are important for young children.
Come up with a theme for the week if you want to be more structured. Pinterest has plenty of ideas for tot school. Don't feel pressured to do everything in the lesson plan. You're busy enough.
Want to feel more organized about tot school at home? Subscribe to get access to the resource library to download the WAHM's Ultimate Guide to Tot School.