Today I'm going to share an organizing hack that my husband LOVES. This is an organizing hack that costs less than a dollar, and it works everywhere.
Some of the links in this post are affiliate links. Please read my full disclosure here.
When we first moved into our house we had a fabric bin filled with all our extra bathroom supplies. We stored it in our hallway cabinet because our bathroom has literally no storage. The bin was really getting out of control. It was so heavy it wouldn't slide out of the cabinet and everything was haphazardly thrown in without any rhyme or reason.
I finally got around to fixing the problem due to the fact that I was tired of my shoes being dusty.
Wait, what?
Thanks to Walmart, my shoes got organized for pennies apiece.
After admiring my amazing shoe storage (and my cleverness), I thought, "What if I used these cheap containers in my hallway cabinet?"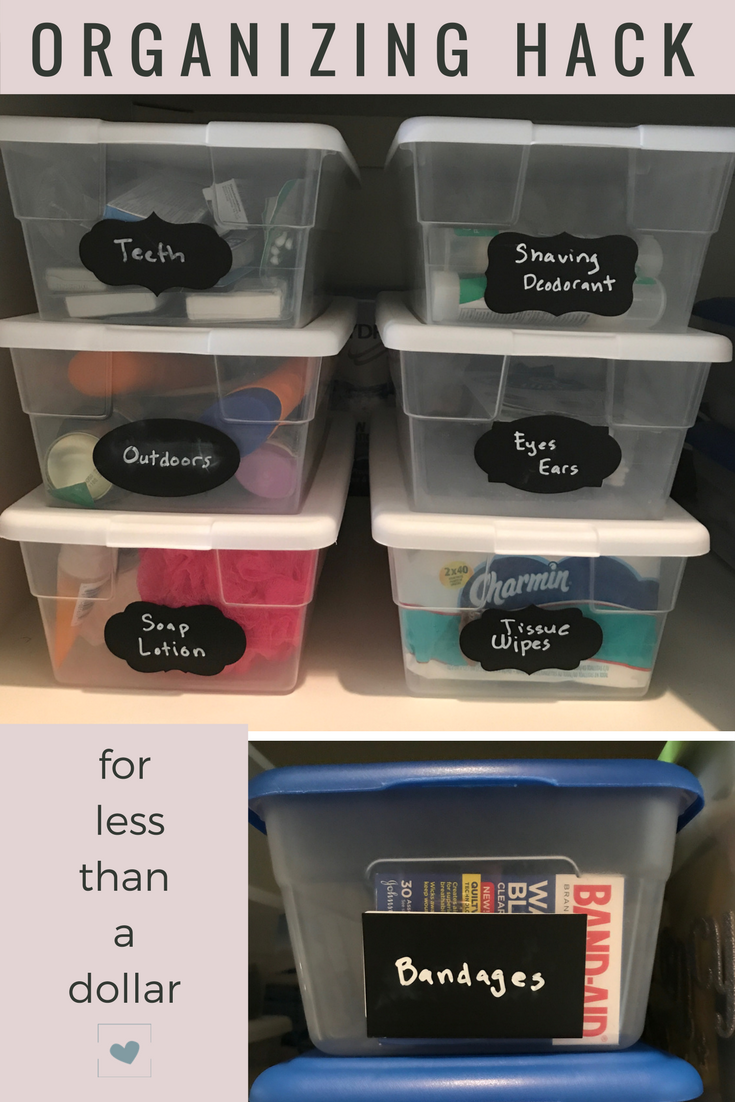 Our cabinet is counter height and only contains 2 shelves. I created multiple levels of storage using shoe boxes.
I paid 94 cents apiece in store at Walmart. There is a 5 pack of these shoe boxes at Target that you can order online and pick up in store.
Why this Organizing Hack works:
1. The boxes slide quickly and easily out of the cabinet. Since they are lightweight, they can be removed and set on the counter for easy access.
2. I use chalkboard labels
 to organize items by type.  This saves time when we are in a hurry to find the sunscreen when we're headed to the park.
3. Since the boxes are small, it is easy to keep inventory of what you have and what you don't need. (Do you really need all those toothpaste samples from your dentist?)
The Organizing Hack that works everywhere
Since the success of the hallway cabinet, I've expanded my use of these boxes to the medicine cabinet and the playroom.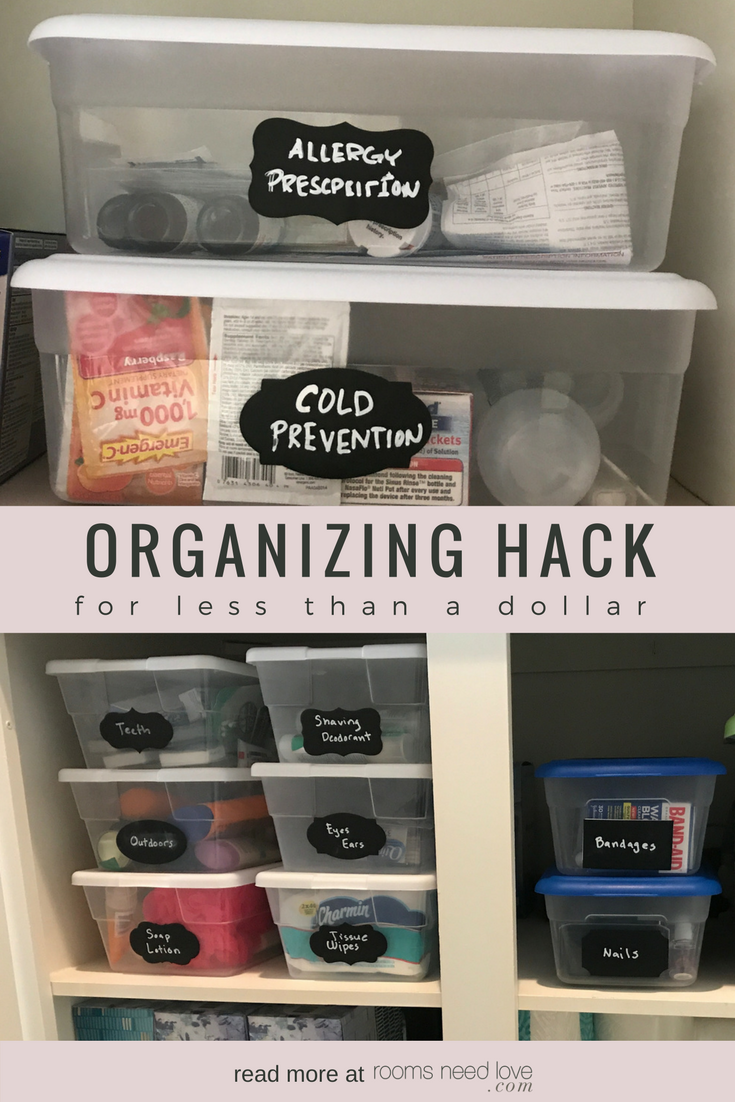 I prefer to use these boxes as hidden storage. They don't have the right aesthetic when you're going for a certain look in your home.
The bathroom and medicine boxes are inside cabinets. No one other than my husband and I go in our closet, and it doesn't matter that they aren't gorgeous because my shoes aren't dusty anymore.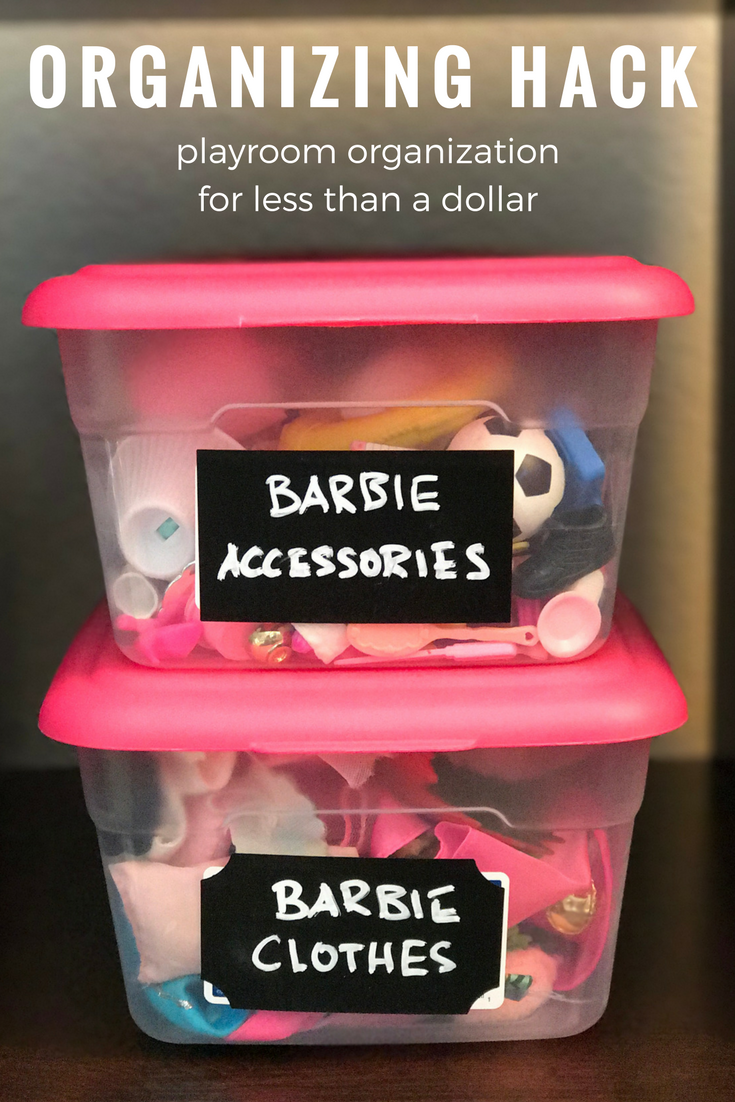 The only place where these boxes are in the open is in the playroom.
Although I labeled the playroom boxes (and my 2-year-old can't read), she can see through the boxes.
Make this Organizing Hack work for you
I know one of the first rules is "don't put a lid on your boxes" but when something works, you just gotta break the rules.
Since it's only 94 cents, don't feel bad about leaving leaving the lid at the store if you don't want it. Sure, you could buy some really nice acrylic storage boxes or cute little wicker baskets, but I'm a mama on a budget, and this works as well as any of those fancy boxes (I'm not gonna lie, I would buy them if my budget allowed it).
Added bonus: if something spills you can wash it with soap and water, and if it's really bad, you can toss it with no regrets.
So, mamas, I know you're on a budget, but for $20 you could do some serious home organizing. Seriously.
I'll see you at Walmart (along with everyone else in Temecula).