Does KonMari Really Work? Wardrobe Edition
In my last post, I talked about how I purged my closet to create a minimalist wardrobe. I tested the KonMari method on my wardrobe to find out if it really works. Here's what happened…
Some of the links in this post are affiliate links. Please read my full disclosure here.
The KonMari Process
KonMari
requires that you take everything out all at once, but I ended up doing it in batches – first emptying the closet, then the dresser. I didn't have a crazy amount of clothes but it was overwhelming to pile all my clothes on the floor. Plus, when you've got a toddler, you never know when you might get pulled away from a project.
After this, you touch every item and ask:
Does it spark joy?
Is it necessary?
Does it work?
The question "does it spark joy" is supposed to be all encompassing, disregarding whether the item was a gift or a hand-me-down. You are supposed to detach yourself from these facts and focus on only what makes you happy.
This worked fairly well for me since I don't get too attached to clothes. I've done a lot of clothes purging ever since I was a kid, but there were a couple pieces that were hard to let of.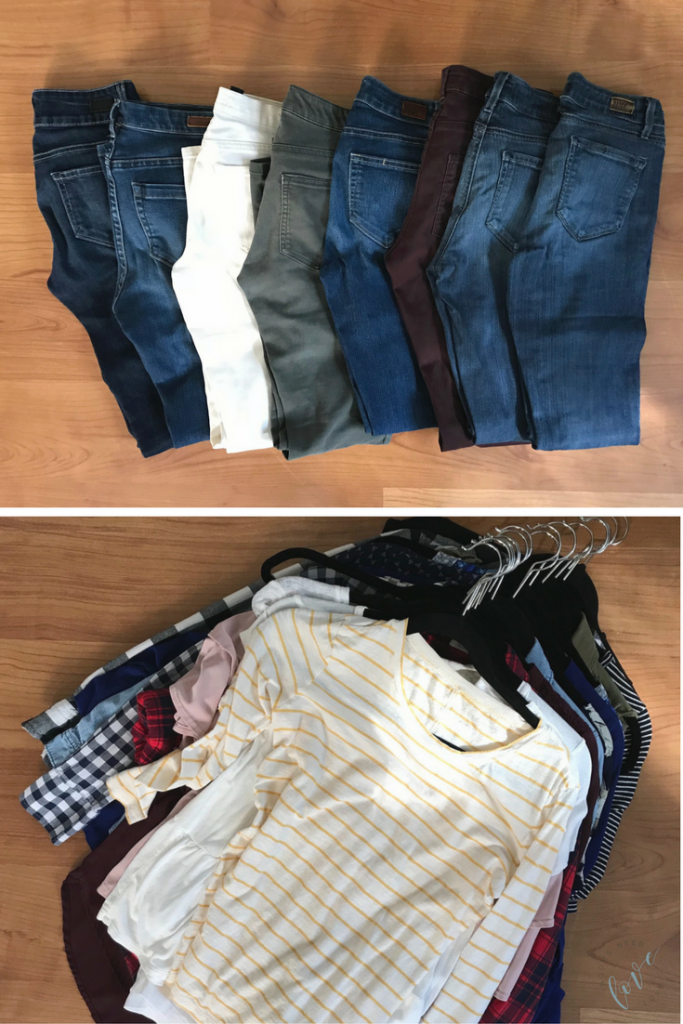 What I got rid of
Since I no longer work outside the home, I discarded nearly all my slacks. I hate slacks with a passion. (Does it spark joy? No. I am angry at these pants for being so dang uncomfortable!)
I got rid of tops with fabric that doesn't breathe. Not good for chasing a toddler.
I had several maxi skirts from my desperate maternity wardrobe that I couldn't bear to look at anymore.
There were pieces that were no longer in style, like some bright red and green jeans that never fit well to begin with.
There were also several pieces that I loved to death but found I never put on anymore. I decided I would be happier to let someone else love those pieces like I once did.
What "sparked joy"
I was surprised at how much of an office wardrobe I still had lurking in my closet. I haven't worked in an office in two years. Fortunately, I have the perfect person to hand all these mint condition pieces to. My clothes fit her perfectly.
She's happy because she's gotten compliments on her new wardrobe and I did the shopping for her. I'm happy because I found someone who can love my old pieces and make good use of them.
Tell me that isn't a great way to spark joy.
Letting go
Earlier this year, I hosted a group of friends for a clothing swap. Personally, I find it difficult to go sell anything, so giving things away is much easier for me. With the clothing swap, it was much easier to let go of more expensive pieces when I knew they were going home with people who would love them.
After going through the process myself, as well as helping out a friend, I found the hardest pieces to decide what to do with are the formal/semi-formal dresses. And goodness, we ladies end up with a lot of those. I couldn't let go of my bridesmaid dress from my brother's wedding. It's such a gorgeous dress and I would love to find a way to wear it again. It's so feminine and…ah.
Final Thoughts
Overall, the KonMari
method did help me to bring happiness to my wardrobe. I can now say I have a closet I love!
If you base your decisions only on if it sparks joy and if the item is necessary, the method can work for you too. However, not everyone can make decisions in this way, which is why I'll be posting more tips for closet purging and organizing throughout the month. Follow me on Facebook or Instagram so you won't miss a post!