Can you believe Thanksgiving is only a couple weeks away? I've been trying to get prepared for the holidays by finishing up Christmas lists, purging my gift wrapping supplies, and giving my pantry a makeover for holiday treat making. Since my mom does the majority of our holiday cooking and baking, I decided I better give her pantry a makeover as well to help streamline her grocery shopping and cooking.
Some of the links in this post are affiliate links. Please read my full disclosure here.
Who else has a problem with pantry organizing? This pantry has been a battleground for years. It seriously needed some TLC.
Consider giving your pantry a makeover if:
1) You can't find what you're looking for.
2) You buy an item every time you go to the store because you don't know if you ran out.
Typically these problems originate around not having designated "homes" for your food. Organizers talk a lot about having a "home" for everything, and your pantry is no different.
A couple weeks ago, I decided to tackle my mom's pantry and try to find a lasting solution. Since my parents' kitchen is small, the pantry is extended in the garage on several built-in shelves. This challenge has been calling me for years.
Identifying the Problem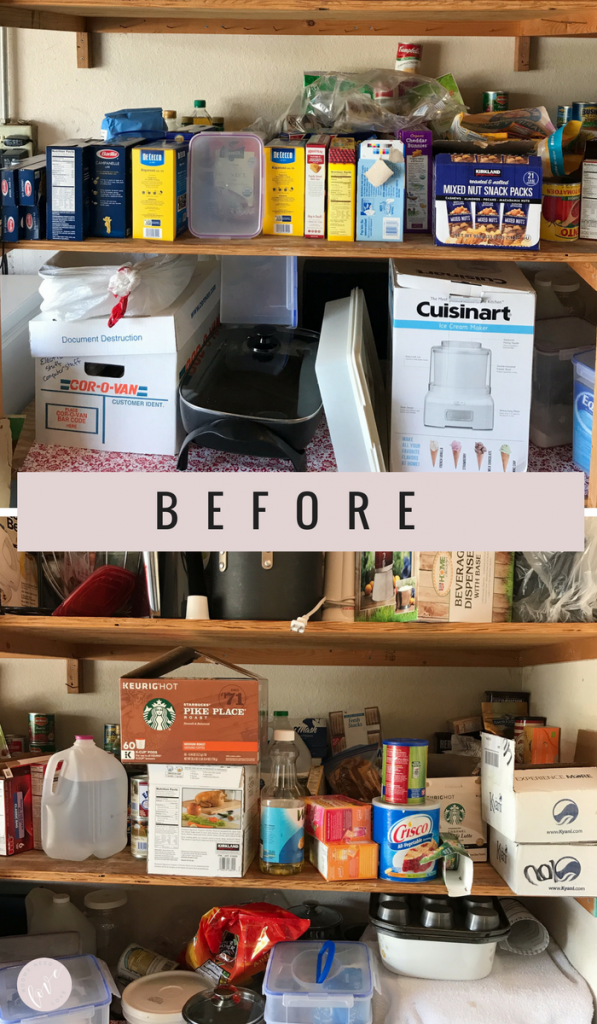 I noticed was that the food would be placed in certain sections, but with nothing to corral similar items, the system would fall apart after each shopping trip. Not only that, mom wouldn't realize she already had something and would buy more, ending up with duplicate items.
I realized that all attempts to organize were pointless without physical barriers to create designated "homes" for all the food. Food products were arranged in certain areas but would slowly seep to other areas of the shelf because there was nothing to hold them back.
After poking around a bit in the pantry, I announced to my mom that I was going to Dollar Tree to get baskets for organizing. She gave me $20 but I was determined to spend less.
(By the way, did you know the Dollar Tree is the place to be on a Saturday afternoon in Temecula? I didn't either until I arrived and stood in line for 10 minutes thinking, what are you people doing here?!)
Create a System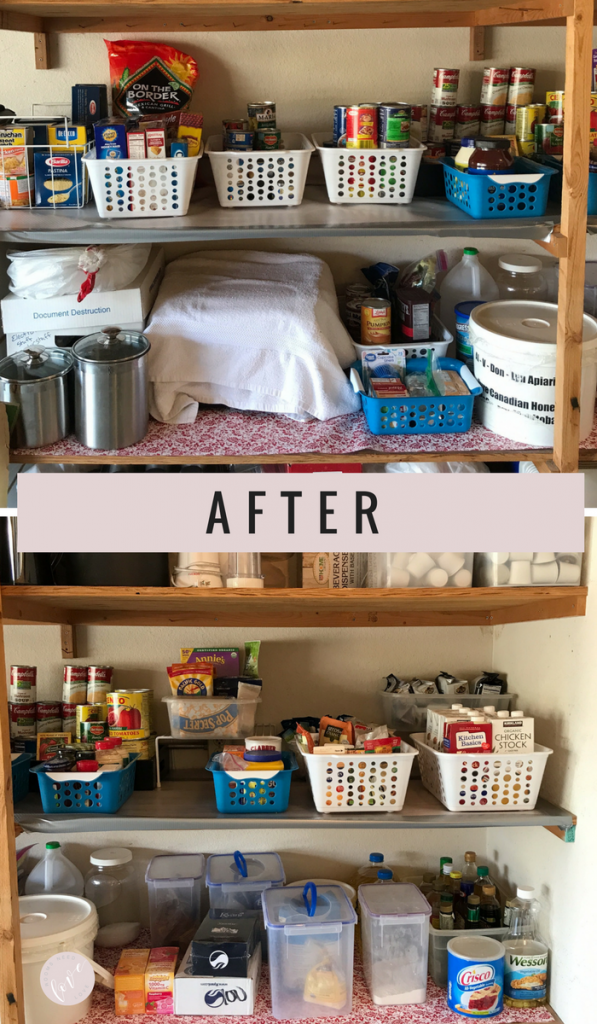 I came home with 10 baskets in two different sizes. I spent $10 (+ tax) to create a system for the pantry. We also used some of the organizing products my mom already had.
We took everything off the shelves and began corralling similar food products.We found several duplicate items (if you need any horseradish, please let us know) and some expired items.
Next, we organized the shelves by placing the items she uses most often closest to the door. We grouped all similar products together with any items the guys might go outside to get (like snacks) on the eye level shelf.
Nearly two months and several shopping trips later, the pantry is still in good shape and ready for the holidays!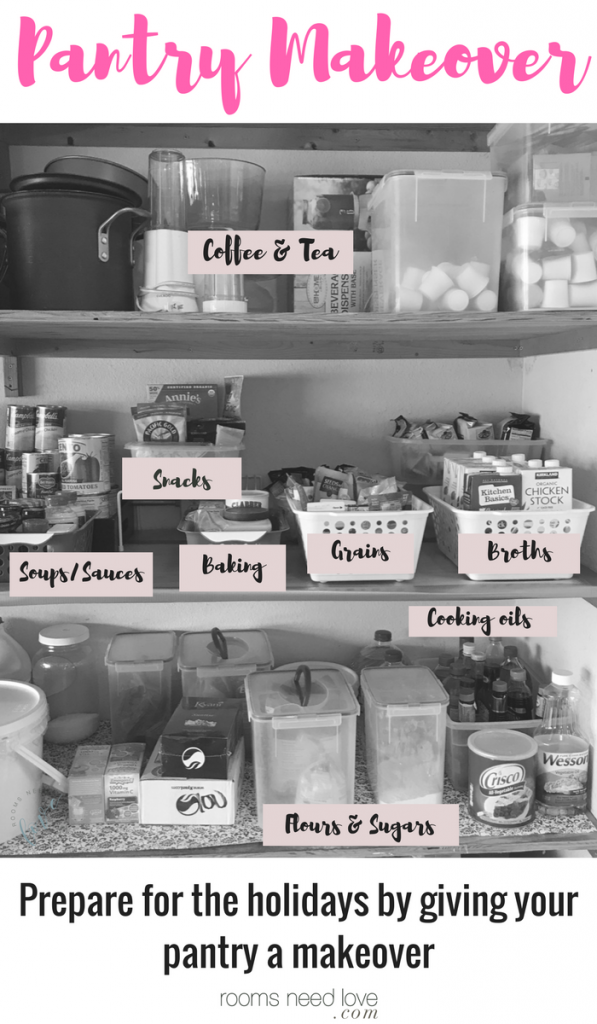 Love the Results
You don't need to spend a fortune on a pantry makeover. Although we would all love to have a Pin-worthy pantry, a functional pantry is even better. You can get lasting results simply by using dollar store baskets, which will save you money in the long run. (Then you can use the money you saved on pretty pantry organizers 😉 )
Are you ready to get your pantry in order for the holidays? Make sure to spread the holiday spirit by sharing this post!