Are you struggling to find gifts that don't contribute to the clutter? Let's talk about the best gifts for getting organized in 2018. It is my goal to give gifts that will save my loved ones time and money, stay productive, and live clutter-free.
Some of the links in this post are affiliate links. Please read my full disclosure here.
Best Gifts for Getting Organized in 2018
The gift guide for saving time, saving money, staying productive, and living clutter-free.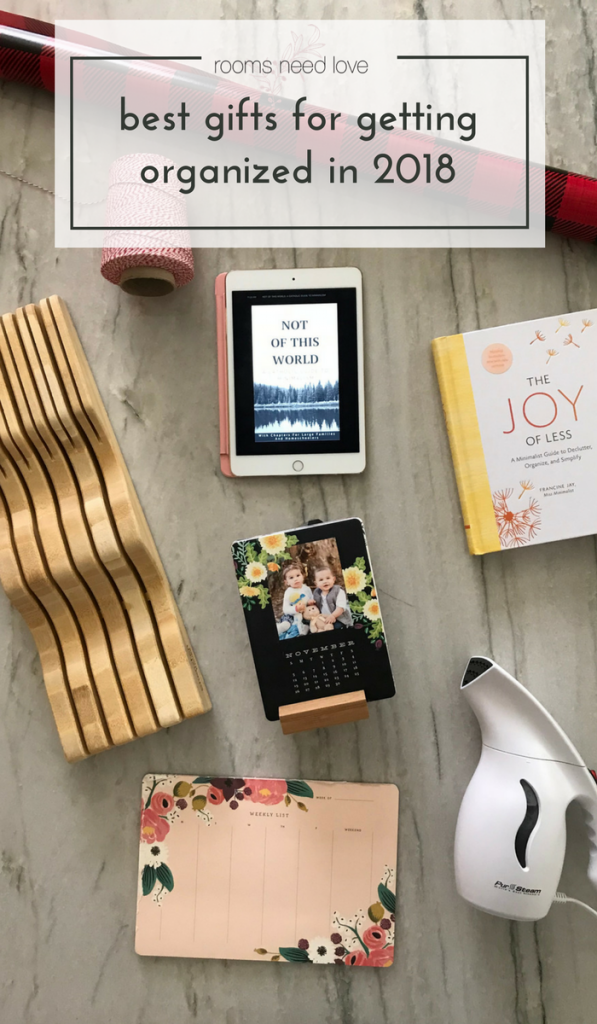 Books
These books have been the biggest influences for me this past couple of months. They are inspiring for those wanting to begin living a minimalist lifestyle.
The Joy of Less: A Minimalist Guide to Declutter, Organize, and Simplify
The Life-Changing Magic of Tidying Up: The Japanese Art of Decluttering and Organizing
Not Of This World: A Catholic Guide to Minimalism
I know I struggle with finding time to read. My husband struggles with this even more. This year, he will be receiving a subscription to Audible so he can listen to books during his commute and in the evening when he goes to bed. (No spoilers here…he knows he's going to get this.)
Try Audible and Get Two Free Audiobooks
Planning
Everywhere I turn, I see all this talk about planning. Meal planning, time planning, planning, planning, planning. I'm obsessed with these planners from Rifle Paper Co. The meal planner is at the top of my list!
Rifle Paper Co Rosa Meal Planner
Rifle Paper Co. "Let's Do This" Notepad
Rifle Paper Co 17 Month Agenda 2018
Calendars
Of course, calendars are a must have for the new year. I love this Rifle Paper 2018 Appointment Calendar
 (I'm so obsessed with their products), but I also love creating personalized calendars from Shutterfly. Pictures are the ultimate gift to give to the grandparents in my life. My personal favorite from this past year was my easel calendar that was perfect for my desk.
Rifle Paper 2018 Appointment Calendar
Time Saving Gifts
Seriously, who doesn't want to save time? I've been so eager to try out AmazonFresh
 ever since my sister-in-law began using it. I would love to spend less time shopping for groceries each week. I already save time skipping the diaper aisle by using Subscribe & Save through my Amazon Family subscription.
AmazonFresh
Join Amazon Family 30-Day Free Trial
Pro Organizer Picks
The following items are my favorite organizing items of the last year. They're also appropriate to give as gifts!
Snapware 8-Piece Total Solution Food Storage Set, Glass