When I got engaged, one of my favorite things was to register for all our new stuff. Unfortunately most of the registry checklists had me requesting WAY more than I needed, especially when there were only two people in the entire tiny apartment. Sure, I was stocking up for when my family grew or when I have guests, but some items, like those in the linen closet, tend to wear out over time.
Some of the links in this post are affiliate links. Please read my full disclosure here.
If your sheets and towels are on the way out, you'll be glad to know that bedding and towels go on sale in January. Traditionally it's called a "white sale" since it used to be only white linens that would go on sale. Nowadays it's everything. (There's a fun fact that you will never need…unless it's the million dollar question. Then you will be glad I told you.)
But before you head to the department store to look for a new comforter, don't forget to check that your linen closet isn't already overstocked. Since you're doing some decluttering this January anyway, you may as well go through your bedding and towels.
I went through my cabinet early last year, and I'm happy that my cabinet door isn't popping open anymore. I'm mostly relieved that the stuff I wasn't using is gone. I was overwhelmed each time I opened the door to find things that we not useful. Now I open the door and it sparks joy!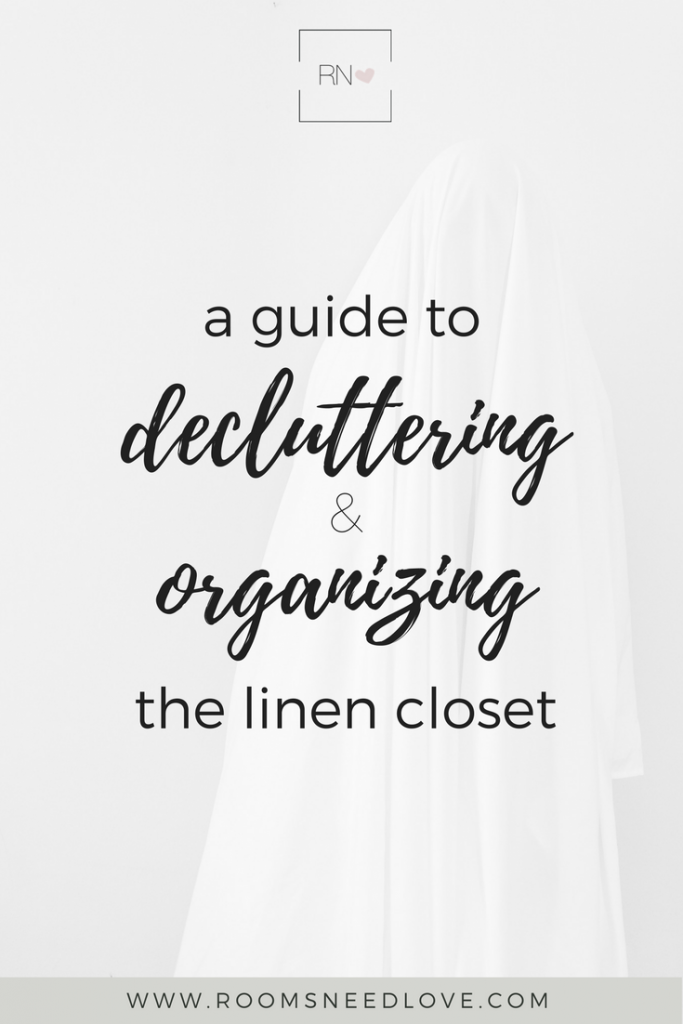 Decluttering the Linen Closet
How much is enough?
Those registry checklists will tell you to have 6 bath towels, 6 hand towels, 2 sets of sheets for each bed, probably a duvet and a regular comforter, plus bedding and towels for guests.
Here's what I say:
Bath linens
2 bath towels per person, a hand towel and washcloth per person per day to last until your next round of laundry. That's being generous.
Personally, I change out my hand towels every two-three days, my husband uses a loofa, and my daughter still uses the baby washcloths.
Whatever works.
The less towels you have, the less laundry you have to do.
Bed linens
As for bedding, it's probably good to have 2 sets of sheets for each bed, but you could probably get away with one. If you have a potty training toddler like we do, it's definitely a good idea to have extra sheets (and an extra mattress protector).
I donated our extra comforter since we've only been using the one on our bed. The one I donated doesn't go with our decor and I realized I was keeping it for non-existent guests.
Be realistic.
Speaking of guests, be honest with yourself. Will you actually have someone stay over? It might just be a distant dream. I mean, we don't even have a guest room.
The only overnight guest we've had is my 5-year-old cousin, and he slept in a sleeping bag on the floor.
I've decided that if we ever have someone stay over we will borrow an air mattress and use our extra master bedroom sheets. I could probably borrow extra blankets and pillows from my mom, and if not, I'll buy some when I have real life overnight guests.
Those family heirlooms
My parents have a couple blankets that were handmade by my great-grandmother. We also have several blankets my grandma brought back from Korea. While it's great to have extra blankets, too much of a good thing can be bad. My family tends to pass heirloom type items from one family to another, depending on the need. If you can't part with an heirloom blanket, consider giving it to a relative who might need it or giving up a newer store-bought blanket. A charity will happily take your gently used blanket, especially in the winter.
Organizing the Linen Closet
I store my linens in cube bins
that came with a Costco cube shelf. The bins do not make for beautiful, drool-worthy storage, but they're functional and they're hidden behind a door.
#win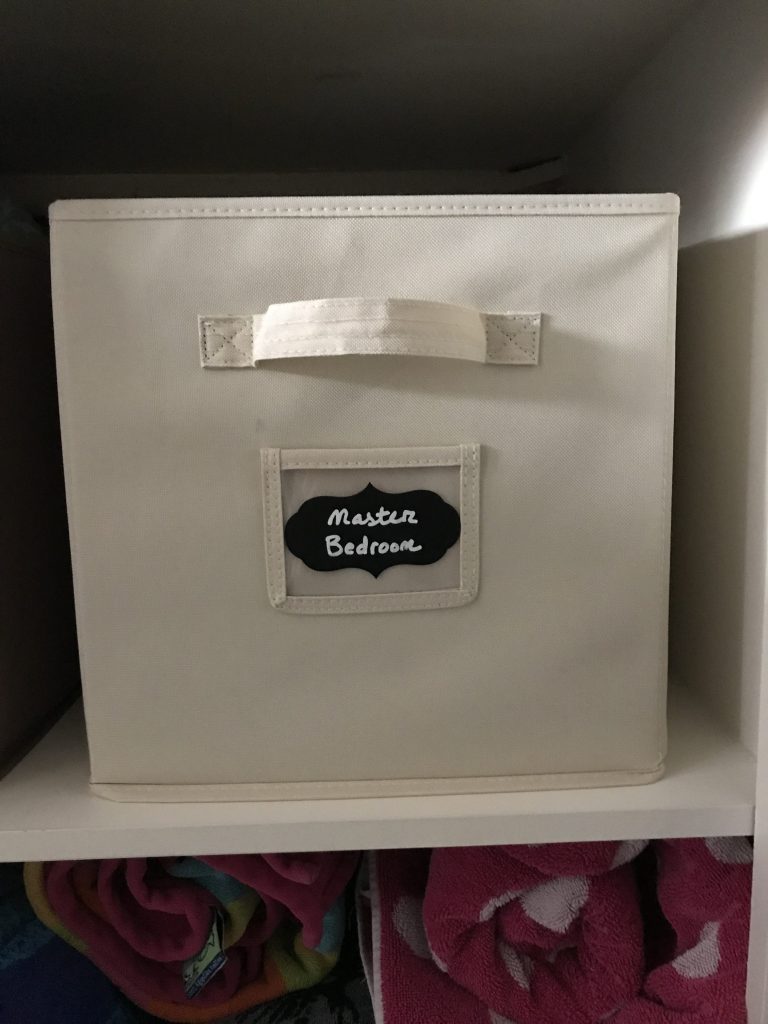 Since three of these bins fit in the cabinet, I assigned a bin for the master bedroom, my daughter's room, and extra blankets. There's also a Boppy pillow that fits in the back for when we have nursing mamas visit.
I don't have much bathroom storage. My daughter's extra towel is stored beneath the sink and our towels are stored on a bookshelf in the master bedroom.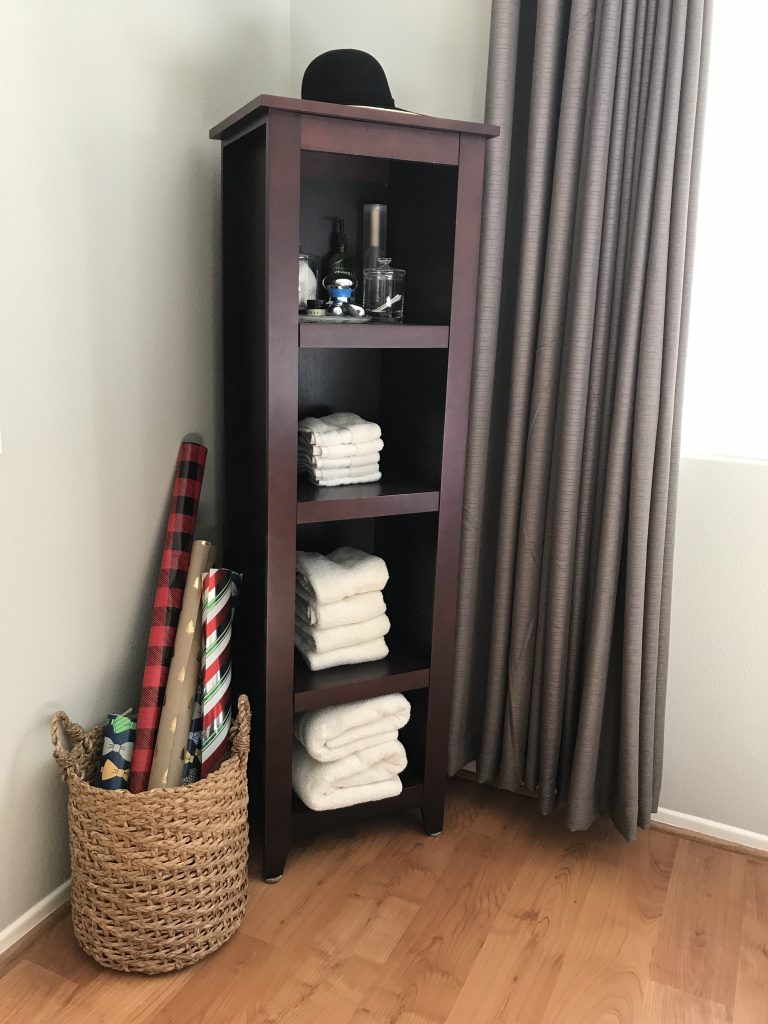 Less is more.
I don't know about you but I'm tired of keeping things I don't want or need. I've resolved to only keep the things that are useful or bring happiness to my life. Will you join me?