Happy New Year! To start the new year off right, I'm giving you a list of 31 items to to get rid of in January.
Isn't it amazing how much stuff we accumulate over the holidays? My sock drawer is bursting at the seams. Fortunately that's the only place that experienced over-abundance…we didn't end up with too many toys, thank goodness!
Some of the links in this post are affiliate links. Please read my full disclosure here.
Hubby and I didn't really give each other much for Christmas since we'd made some pretty expensive but worthwhile purchases earlier in the year. I had planned on giving him a subscription to Audible, but he decided he wanted to buy Bitcoin instead. (Don't say I didn't try.)
It ended up being very fortunate that we didn't buy anything since we plan on taking our toddler to Disneyland for her birthday next month and our water heater decided to go out on Christmas Day. Merry Christmas to us! *sarcasm* And that's why we make sure to have an emergency fund.
Anyway, back to the post-holiday purge…this list consists of no-brainer items to get rid of this month. If you don't have a lot of time to purge, you can do one category each day, probably during your kids' naptime.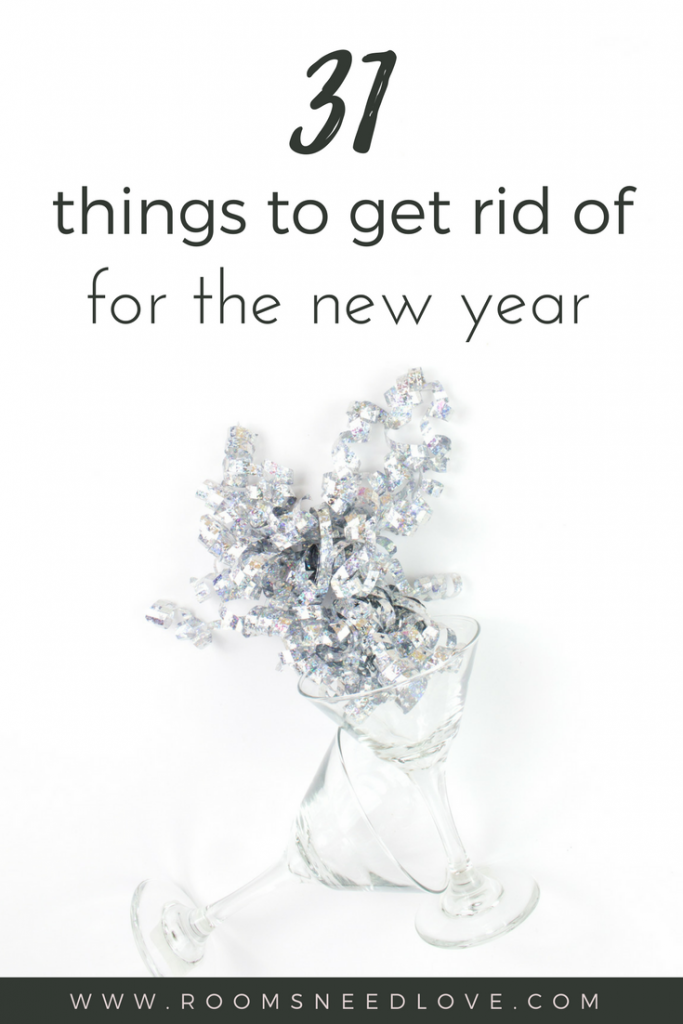 31 Things to Get Rid of Now
Broken toys

Partner-less socks

Lidless containers

Expired meds

Junk mail

Junk email

Unread books

Unpaid bills

Plastic food storage

Expired food

Duplicate kitchen utensils

Unused small appliances

Expired coupons

Unused product samples

Un-watched movies

Old hair products

Unwanted email subscriptions

Old cleaning products

Old magazines

Unused holiday decor

Old school notebooks

Old college textbooks

Gift bags you won't reuse

Non-sentimental greeting and Christmas cards

Old electronics

Picture frames you won't display

Old calendars

Extra coffee mugs
Want to declutter even more? Check out this post about decluttering your office. 
If you want to be challenged to do even more, make sure you subscribe so you can get organizing challenges straight to your inbox!