A couple months after we moved into our house, we remodeled our kitchen. All we really wanted was to replace our sink, but one thing led to another and bang! New kitchen.
Ok, the layout is still the same, but we changed the cabinet color, the sink, upgraded appliances, added backsplash, and installed new counters. The counters are the star of the show.
Some of the links in this post are affiliate links. Please read my full disclosure here.
For that reason, I keep clutter off the counter as best I can. I don't want to cover up the gorgeousness. Plus, it's nice to have a functional kitchen where things are in the areas where food is prepared (like the fresh baked bread pictured…I'm so hungry right now).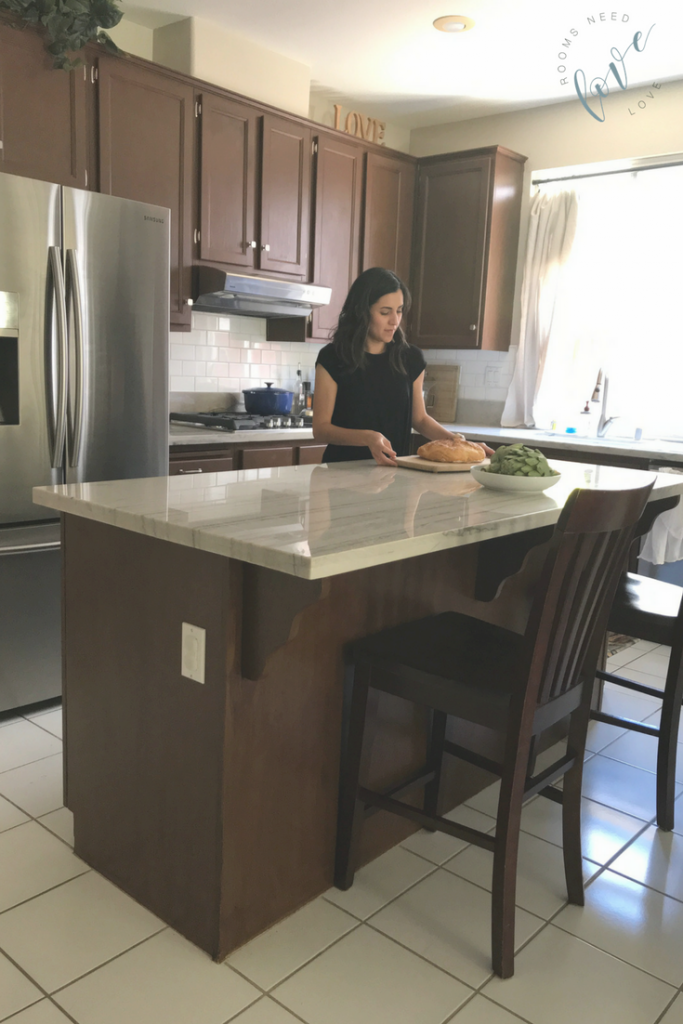 Today I'm sharing 2 organizers to curb kitchen clutter.
I used both of these organizers in my kitchen. Both have added efficiency to my kitchen and both prevent clutter from piling up on the counters or in the cabinets.
I just realized both organizers I'm sharing are for drawers, so yeah…
Honestly, that knife block that came with our knife set takes up a lot of valuable real estate on the kitchen counter. Plus, I would have to store them near a wall. Since I do all my chopping on the kitchen island it makes sense to keep the knives in that vicinity as well. I use this in-drawer knife block
from Amazon, and it's definitely one of my favorite kitchen organizers. I just open the drawer when I'm ready to chop without needing to turn this way and that to find a knife.
Our kitchen has plenty of lower cabinets and drawers but limited upper cabinets. Usually it makes sense to keep spices in a cabinet next to the stove, but I need space for my drinking glasses (next to the refrigerator) and my dishes (near the dishwasher). I have three deep drawers right next to the stove that are perfect for storing my spices. I use this spice drawer organizer
to keep my spices from sliding around and staying organized. 
Let's face it: when you have a spice cabinet, spices tend to get lost in the back and we end up with duplicates. I have duplicates in my drawer from the spice cabinet days. Storing my spices this way allows me to see everything I have in one quick glance without needing to shift things around.
(That's yet another way organizing your home can save you money.)
Make sure you pin this post for later!
While you're here, make sure sign up for the free 40 Days of Intention Challenge. The challenge goes live on February 14 and is an opportunity for you to build some habits to keep you and your home put together and intentional. You can check out more here or if you're ready to take the plunge. Sign up below!