How are you doing on your New Years' goal for getting healthy? Still hitting your fitness goals? Or did you hit a slump after, what, 3 weeks?
I totally get it. I usually fail by about the third week. But this time, I'm determined to keep going. I'm going about it differently so that I make exercising a habit.
Some of the links in this post are affiliate links. Please read my full disclosure here.
Today I'm sharing 8 ways to get your fitness goals and stay motivated. Ready? Let's go!
1 | Know why you are doing it
Why do you want to exercise? Are you working toward an event? Dive deeper than that. Write down all your reasons and keep asking why.
For example, my job as a Professional Organizer can be very physically demanding. I need to be strong and fit to do those jobs where heavy lifting or several hours on my feet are required. I am doing this job because it's something I love, and so that I can provide additional income to my family. Someday I hope to do it full-time. If I'm not physically fit to do it, that dream may not come true.
See what I mean? Dive deep into your why.
2 | Make it a date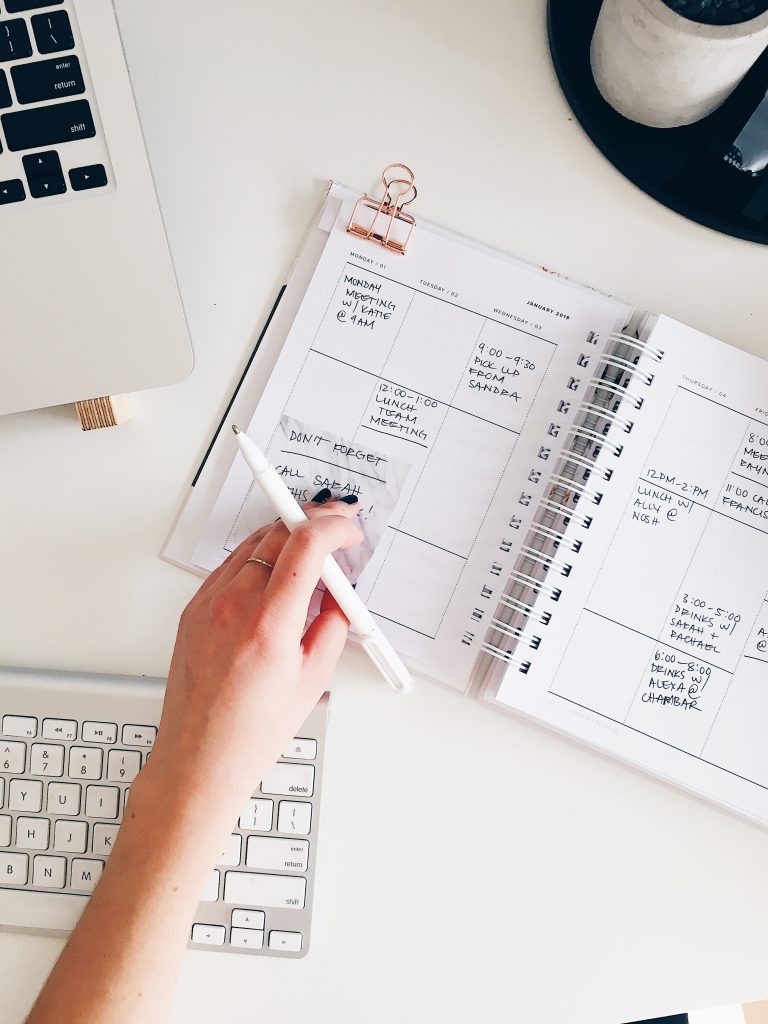 Write down exactly when and where you will be to do your exercising. It feels great to cross something off our to-do lists, right? For me, I prefer to work at home. I write in in my time-blocking planner the time I'm going to stop and workout. I also have a separate calendar where I've written down the exact things I'm going to do so I can cross it off.
3 | Eliminate interruptions
Interruption can be a big motivation killer. Figure out the time of day that you are most motivated to exercise and less likely to be interrupted. Some people like mornings. Others prefer the evening after work. Many moms have to get in their exercise before their kids wake up, while they nap, while they're at school, or when their spouse comes home. I prefer mid-morning after I've had time to write, do some work, and get my kid fed. If I wait any longer, I probably won't do it at all. My daughter usually is fine to entertain herself while I exercise, or she joins me!
4 | Wear something comfortable
I can't deny that comfortable clothing for workout can do wonders. (It also helps if you feel cute in them.) I broke down during the Nordstrom Half Yearly Sale and bought the infamous Zella Live-In Leggings. Oh. My. Gosh. Worth every penny. Best pants for workouts and lounging. They're comfortable enough to sleep in so you can get up and go straight to working out if you're a morning person.
I've also found plenty of comfortable and cute clothing options at places like Ross and Marshalls, if you don't feel like dishing out $50+ on leggings. (It took me a long time to go for it.)
However, if new work out clothes are your only motivation to exercise, you better go back to defining your why.
5 | Baby step it
Start small to make your way up. My cousin Stephanie made a goal to do a 16 mile walk last May and slowly worked her way up. She began walking a few miles each day and added more as she went along. By May 20th, she hit her goal! Since then she has done a couple more marathons.
While I'm not planning on doing any marathons, my goal is to get through all the Jillian Michaels dvds I own I have without stopping after 2 weeks. I've broken down my plan week by week for 13 weeks with 3 weeks of Jillian Michaels – 30 Day Shred
, then 4 weeks of Ripped in 30
, then finally 6 weeks of Jillian Michaels: 6 Week Six-Pack
.
I don't know what I will do after that, but I'm looking toward these smaller goals first. They're not so bad when they're broken down this way.
You have to have big goals but you need to take it one step at a time to get there. Baby steps make our goals attainable.
6 | Listen to something that motivates you
For some, playlists are great motivators. The music gets them pumped up and in the mood for a work out. For me, podcasts keep me distracted from thinking about how tired I am. I listen to everything from Sunday homilies to marketing and blogging podcasts. They keep my mind working a mile a minute while my body does the physical exercise. It's one of the best times for my creativity, and before I know it, the work out is over and I'm motivated to get to work!
7 | Know yourself
Do you prefer to exercise alone or in a group? I have this weird thing where I feel awkward exercising in public, so gyms are out of the question. Exercise dvds work great for me.
My husband, on the other hand, needs more accountability to keep him exercising. He meets with a trainer two mornings a week, and this has kept him motivated for the past couple of years.
Maybe you just need an accountability partner. Or maybe a group of friends doing an exercise challenge. Do whatever keeps you accountable.
8 | Do what you like to do
On a similar note, do exercises you enjoy doing…or at least can tolerate. If you hate running, don't do it! If you can find something you like to do, or if you can find ways to make it enjoyable, it won't be so bad to get to work!
…
So, will you use any of these strategies to keep it going? Let's actually reach those health and fitness goals this year! Make sure to pin this article for later when you need motivation.