Capsule wardrobes are all the rage these days. They make deciding what to wear extremely easy, plus they cut down on the quantity of clothing in your closet. However, a capsule wardrobe can be tough to implement, especially if you don't know your style or where to shop for pieces that will actually work for you.
Some of the links in this post are affiliate links. Please read my full disclosure here.
Over the past few years I have been able to define my style by following a couple style blogs. I unintentionally built a wardrobe full of clothes that can be reworked in several outfits, and they are all pieces I love.
This method may not help you if you want to do something about your wardrobe NOW, particularly if you don't enjoy reading style blogs like I do. So here's a quick solution for creating a collection of clothing that can actually work for you right now.
You can start defining your style and building a capsule wardrobe by joining a style challenge.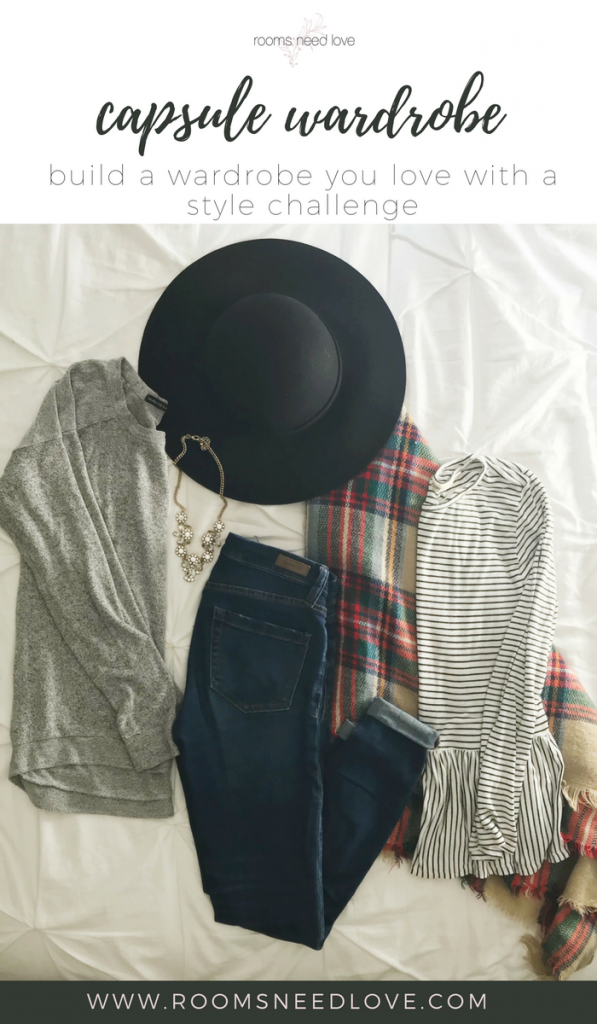 There are several style challenges out there, including the GYPO style challenge. I do not have experience with this challenge personally, but I have friends who have done it and highly recommend it.
The challenge I have done and recommend is the Putting Me Together Style Challenge. Registration for the Winter Challenge opened this week and is only $39.
My first PMT style challenge was this past fall. California was experiencing 100 degree weather, so it was tough to stick to the program. The weather is finally cold, so I'm looking forward to actually being able to wear winter outfits. (Yay!)
Reason 1:
When you join, you receive a beautiful PDF with a shopping guide and pictures of each outfit (48 total). I am extremely impressed at the depth and effort Audrey of PMT puts into creating the challenges. Several women in the challenge have even printed and bound the entire PDF!
Reason 2:
If you join the Facebook group, the ladies there are always posting alternative pieces, where to find them, and they alert everyone to sales. (Plus, those ladies are super supportive and inspiring posting their outfits.) Watch your Facebook feed to blow up with everyone's outfit posts on January 8th when the challenge goes live. So fun!
Reason 3:
Joining a style challenge forces you to try pieces and looks you may never have tried. For example, the last challenge required a couple of dresses. I realized I have to really find the right dress for some of those looks to work for me. I'm still not convinced about wearing a dress for everyday, but I'm willing to try it again and look for a different dress.
Reason 4:
What I love most about this style challenge is that Audrey literally tells you where to buy the pieces for the wardrobe. With a thorough guide to building a closet full of reworkable clothes and a list of options for where to buy different pieces available on the PMT blog, it's hard to go wrong. For so many women, shopping is the most frustrating part, and she's done all the work for you!
Audrey has reused several pieces from the Fall Challenge for the Winter Challenge. Talk about reworking your wardrobe! Having a wardrobe that can translate to a different season is what it's all about. You can check out more about the Winter Challenge here.
Reason 5:
Did I mention it's fun?
…
Are you convinced yet? A style challenge is seriously the easiest way to get started on building a capsule wardrobe because all the hard work is done for you. If you don't think PMT is your style, I encourage you to check out the GYPO challenge instead.
Make life easy on yourself. Join a style challenge and start building a wardrobe you love.
Want to know more about wardrobes and closet organizing? Check out these posts!
10 Must Haves for a Perfectly Organized Closet
10 Questions to Purge Your Closet
Minimalist Wardrobe, Fall Style
How to Host a Clothing Swap Party Like a Boss